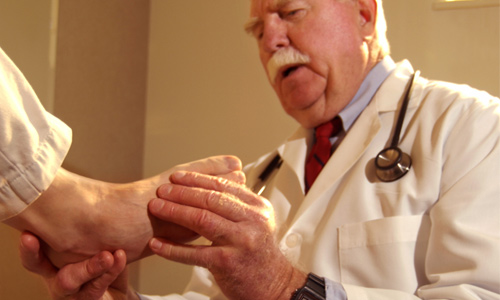 Rehabilitation, by definition, is the process of returning something to its original condition. The word means to make fit again. Physical therapy focuses on strength and movement of the body. To help patients, physical therapists and orthopedic surgeons will perform a musculoskeletal evaluation and work as a team to develop a personalized treatment plan. The goal is to both optimize your rehabilitation and recovery from injury and pain, and to strengthen your body to prevent future complications.
After suffering from an injury or being diagnosed with an orthopedic condition, chronic pain and discomfort can often disrupt you from living your daily life. Our musculoskeletal system is made up of hundreds of moving parts, all working together to allow the body to move and function. Orthopedists study the musculoskeletal system. They have solutions at their disposal to help accurately diagnose disorders and injuries affecting bones, muscles, ligaments, tendon, and cartilage.
If you suffer an injury or any kind of degeneration due to conditions such as arthritis, orthopedists are specialists who know how to diagnose and treat people accordingly. After evaluation and diagnosis, surgery or extensive treatment, an orthopedic surgeon will turn to physical therapists and their rehabilitation team (sometimes before surgery). These specialists for rehabilitation and physical therapy help people get back to living their lives as quickly as possible during their recovery process.
.
Physical therapists are healthcare experts highly educated in the movement and function of the human body, called kinesiology. PTs have a special skill for assessing the human body and helping restore it back to optimal performance after injury or surgery. Many people experience pain at some point in their lives, whether it be acute or chronic. Physical therapy has been known to improve function for patients experiencing hip, knee, shoulder, and lower back pain.
Rehabilitation is a crucial part of recovery, and can make a big difference in a person's healing. That is why our highly skilled staff at South Palm Orthopedics has been trained by nationally recognized orthopedic surgeons and physical therapists who are dedicated to up-to-date evidence based research and rehabilitation techniques.
Having a state-of-the-art physical therapy center located on-site helps our patients get the services and treatments they need, when they need it. Equipped with gym and exercise equipment, our physical therapy center has a team of qualified physical therapy professionals including licensed physical therapists, a nationally known occupational therapist, hand therapist, and a licensed massage therapist.
At South Palm Orthopedics state-of-the-art physical therapy center, our staff strives to ensure successful post-injury and surgical outcomes for our patients by providing outstanding physical therapy, comprehensive patient education, and post-therapy support. In many cases, pain can be alleviated with a combination of modalities, such as medication and physical therapy. The orthopedic doctor will often turn to their physical therapy team for patient care first, with the hopes of rehabilitation without the need for surgery.
The added benefit of physical therapy, is that it empowers and teaches patients about proper movement and strengthening techniques, catered specifically to their condition, age, and other preferences. To learn more about our State-of-the-Art Physical Therapy Center, call South Palm Orthopedics at or request an appointment online.