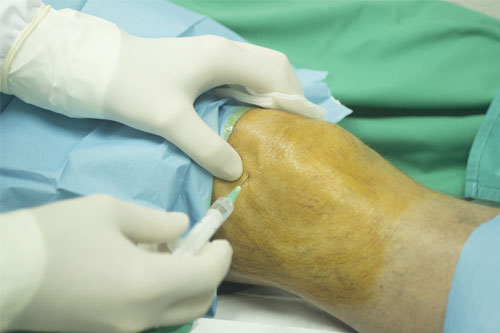 The human body responds to injury by attempting to heal itself. Regenerative Medicine accelerates this natural healing process, restoring health and function to damaged tissues. It is truly a game changer that promises to revolutionize how orthopedic injuries are treated. Many orthopedic patients are already benefiting from proven regenerative medicine therapies. Here's how to find out if you might be a candidate:
With regard to orthopedics, the most applicable areas of regenerative medicine include using orthobiologic injection therapies such as platelet-rich plasma (PRP) injections or stem cell injections to try to get musculoskeletal injuries to heal quicker and in a more robust fashion.
PRP injections: This therapy taps into the healing potential and growth stimulating capability of platelets in your blood. A small amount of blood is drawn from your arm. The blood is processed to obtain platelet-rich plasma which is then injected into the injured tendon or site of injury. The platelets release growth factors that cause regeneration of injured tissue. The entire procedure from initial blood draw to injury site injection can be done in an hour's time.
Stem cell therapies: This treatment involves harvesting the patient's own stem cells from their bone marrow. The bone marrow is usually drawn from the pelvic bone. Stem cells are obtained from the bone marrow and are then injected into the site of injury. The unique property of stem cells is they can transform into different types of cells such as bone cells, ligament cells, or tendon cells as needed to help the body heal itself.
Regenerative Medicine is a good option for chronic conditions such as ligament or tendon injuries, tennis elbow, rotator cuff pain, Achilles tendonitis, and early-stage arthritis. Many patients report improved function, less pain, and more mobility with these injections.
If you have a longstanding bone and joint injury that stubbornly refuses to heal despite rest, activity modification, and other types of conservative treatments; and you would rather not have surgery at the present time, especially in the light of the COVID-19 pandemic, you may be a candidate for Regenerative Medicine. The injections can be administered in a short outpatient visit. For more information, please call us at (561) 496-6622.
Dr. Russell D. Weisz is a board-certified orthopedic surgeon with a one-year fellowship in orthopedic traumatology. Dr. Weisz completed his orthopedic surgery residency at the New York University-Hospital for Joint Diseases, publishing papers and giving national presentations on fracture treatment and joint replacement surgery. Dr. Weisz has performed a tremendous amount of minimally invasive hip fracture surgeries and is committed to staying in the forefront of treating complex fractures and fractures that don't heal. Our team of physicians provides an advanced level of care, integrating the newest cutting-edge surgical and nonsurgical techniques, with proven traditional methods of treatments. The physicians at South Palm Orthopedics are committed to providing the highest level of orthopedic care to each and every patient each and every time.