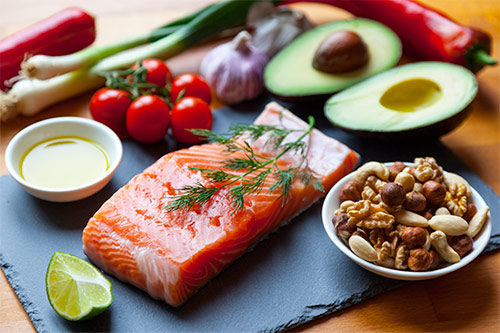 Inflammation is a part of your body's response injury or disease. It helps the body fight infection and heal injuries. But chronic low-grade inflammation can be harmful to the body and worsen arthritic symptoms. The word 'arthritis' is derived from Greek term for 'joint inflammation.' Although there isn't any diet cure for arthritis, what you eat can make a big difference in your symptoms. Begin the New Year with these healthy food habits that help you beat inflammation:
Foods to be added to your diet:
Fish: Tuna, salmon, and mackerel and other fish rich in omega-3 fatty acids are great for people living with rheumatoid arthritis.
Soybeans: If you are not a big fan of fish, you can enjoy the benefits of omega-3 fatty acids by eating soybeans which are packed with this inflammation-fighting nutrient.
Olive oil: Extra-virgin olive oil contains oleocanthal which has potent anti-inflammatory properties.
Green leafy vegetables: Spinach, collards, and kale are rich in calcium and vitamin D which can boost immunity and help fight inflammation.
Fruits: Cherries, blueberries, blackberries, raspberries, strawberries and other fruits are rich in anthocyanins that reduce inflammation.
Foods to be Limited:
Processed meats (hamburgers, hot dogs)
Refined foods (white bread, sweets)
Sugary soft drinks
Fried foods (French fries)
Red meat
Lard
Interestingly, the foods that cause inflammation are also associated with other chronic health conditions such as heart disease, diabetes, and obesity. Adopting a well-balanced anti-inflammatory diet in the New Year, will not only benefit your bones and joints, but transform your overall health and wellbeing.
Dr. David N. Buchalter is a board-certified orthopedic surgeon who trained at the Hospital for Joint Diseases in New York City, one of the largest and most prestigious orthopedic training hospitals in the United States. Dr. Buchalter has performed well over 3,000 total hip and total knee replacements and is a member of the American Association of Hip and Knee Surgeons. Our team of physicians provides an advanced level of care, integrating the newest cutting-edge surgical and nonsurgical techniques, with proven traditional methods of treatments. The physicians at South Palm Orthopedics are committed to providing the highest level of orthopedic care to each and every patient each and every time.