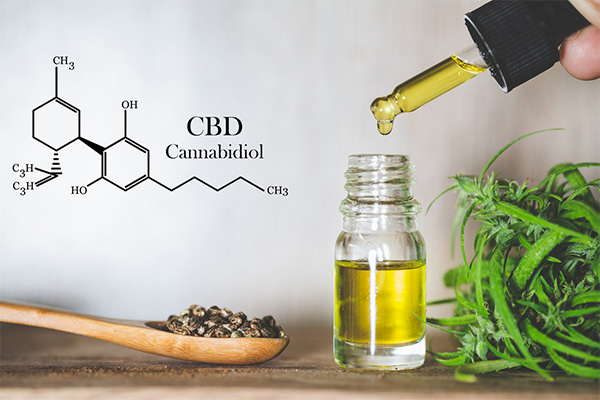 In recent years there has been a lot of hype about CBD. It has been touted by some as the magical elixir for all aliments in our fast paced, anxiety-ridden times. The truth is that it does have some legitimate medicinal properties such as the alleviation of pain.
Cannabidiol (CBD) is a compound derived from the cannabis plant. It is not the same as THC which is also derived from the cannabis plant. Unlike THC, it does NOT cause a mind-altering "high" sensation. After the CBD is extracted from the cannabis plant, it is combined with a carrier oil to form CBD oil.
The human body has an endocannabinod system (ECS) which regulates important body functions as well as the pain response. CBD does not directly act on the ECS but inhibits or activates other compounds in the endocannabinod system. For example, it reduces the absorption of anandamide from the blood stream. High levels of anandamide in the blood reduces pain sensitivity. CBD also limits inflammation within the nervous system and brain to provide better pain control.
Some of the possible condition where CBD oil can provide symptomatic relief include:
Arthritis: People using CBD oil may be able to obtain relief from pain and discomfort due to swollen and stiff joints.
Multiple sclerosis: This is an autoimmune condition affecting the nerves that may cause painful muscle spasms. In one research study, several patients reported modest relief of painful multiple sclerosis symptoms with application of CBD oil.
Chronic pain: As CBD does have a pain-relieving anti-inflammatory effect without causing intoxication or dependence, it may be effective in treating chronic conditions such as low back pain or knee pain.
It should be noted however that there are possible side effects from use of CBD which include fatigue, diarrhea, and changes in weight/appetite. It's best to seek the opinion of your doctor or the orthopedic specialists at South Palm Orthopedics about the use of CBD oil to alleviate your chronic bone and joint pain.
South Palm Orthopedics is a medical practice devoted to the diagnosis and treatment of injuries and diseases of the body's musculoskeletal system. Our orthopedic surgeons have advanced fellowship training in the areas of hand & wrist, shoulder, elbow, hip, knee, trauma and fractures, foot and ankle, and sports medicine. The physicians of South Palm Orthopedics are committed to providing the highest level of orthopedic care to each and every patient each and every time.