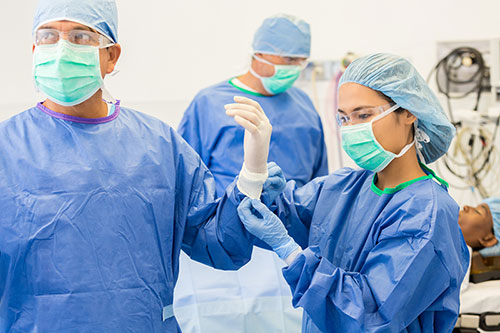 Is your fear of the Coronavirus pandemic causing you to postpone a much needed surgery? Now that the initial surge in the number of COVID-19 cases has abated, elective surgeries are being performed to help people in pain achieve a better quality of life. Here's what you need to know about surgery center and hospital safety precautions.
When you step into the surgery center or hospital, your temperature will be checked and you will be asked a few questions about possible symptoms for COVID-19. If you are deemed a candidate for surgery, you will have to be tested for COVID-19 about 3-4 days before the surgery whether or not you have any symptoms, and then will have to self-quarantine until the day of the operation.
At South Palm Orthopaedics, our doctors and support staff always wear masks and appropriate personal protective equipment (PPE), maintain safe distances, and use hand sanitizers before and after performing an examination. All contact surfaces are routinely cleaned to minimize risk of contamination.
From a surgical perspective, the surgeons and nurses are in the habit of washing their hands and using sanitizers as part of standard protocol. If the surgeon touches anything, the gloves are changed and hands are washed again to maintain strictly sterile conditions.
Your risk for an acquired infection may be lower at a surgical center because of the specialized services and the more personalized care offered at the center as compared to the hospital setting where many patients with a variety of conditions are treated.
It should be noted that no surgery is absolutely zero risk, but you can rest assured that our team of surgeons and support staff will do everything possible to maximize your safety when undergoing surgery at South Palm Orthopedics.
Dr. Steve E. Meadows is a board-certified orthopedic surgeon with advanced fellowship training in hand and upper extremity surgery. He practices general orthopedic surgery with a subspecialty interest in shoulder, elbow, wrist, and hand problems. Dr. Meadows performs numerous shoulder surgeries per year, including rotator cuff repair, shoulder replacement, reverse shoulder replacement, and fracture repair. Our team of physicians provides an advanced level of care, integrating the newest cutting-edge surgical and nonsurgical techniques, with proven traditional methods of treatments. The physicians at South Palm Orthopedics are committed to providing the highest level of orthopedic care to each and every patient each and every time.