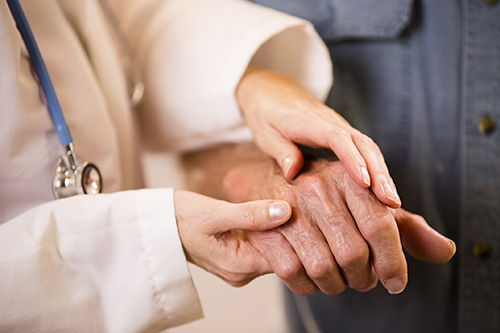 According to the Centers of Disease Control nearly half of patients diagnosed with arthritis also have diabetes. This fact indicates there is a definite link between diabetes and arthritis.
Diabetic arthropathy (joint disease) causes laxity in ligaments, increasing range of motion and instability, and progressive damage by minor trauma. Signs and symptoms develop gradually and include thickening of skin, changes in feet structure, shoulder pain, and carpal tunnel syndrome.
Some of the different manifestations of diabetic arthropathy include:
Charcot's joint: Joint breakdown occurs as a result of diabetic nerve damage which causes numbness and loss of sensation. The feet and ankles are usually affected by this condition. Use of foot orthotics may be required to prevent damage and deformity of the feet.
Osteoarthritis: It is the wear and tear of joints that occurs with age. Although it may not be directly caused by diabetes, both conditions are linked by a common risk factor – obesity. The knees and hips are most commonly affected by osteoarthritis. Losing the excess weight by healthy eating and regular exercise can help reduce symptoms of diabetes and osteoarthritis.
Rheumatoid arthritis: Diabetes type 1 and rheumatoid arthritis are autoimmune disorders. The goal of treatment in both cases is to reduce inflammation. New drugs are available today that may help treat both conditions.
Dupuytren's contracture: Thickening and scarring of tissue causes the fingers to bend towards the palm to such an extent that you are unable to fully straighten your fingers. The condition may be treated with injection to lyse the cords, or this may be done surgically
Frozen shoulder: The condition is characterized by limited range of motion and pain in the shoulder. Aggressive physical therapy will help regain shoulder mobility and function.
Early diagnosis of diabetes-related bone and joint problems is the key to successful management of symptoms. If you have diabetes and are experiencing joint pain and discomfort, speak to your doctor or an orthopedic specialist to discuss personalized treatment options to protect your joints against diabetic arthropathy.
South Palm Orthopedics is a medical practice devoted to the diagnosis and treatment of injuries and diseases of the body's musculoskeletal system. Our orthopedic surgeons have advanced fellowship training in the areas of hand & wrist, shoulder, elbow, hip, knee, trauma and fractures, foot and ankle, and sports medicine. The physicians of South Palm Orthopedics are committed to providing the highest level of orthopedic care to each and every patient each and every time.