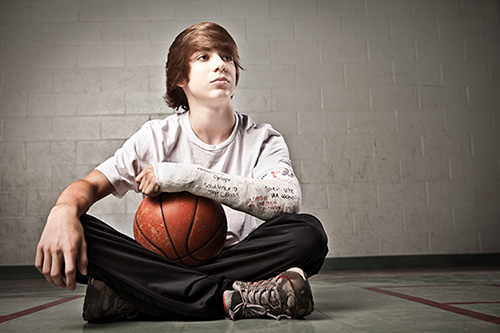 Healing a fracture or a broken bone is different for everyone. The healing time for a fracture depends upon a person's age, nutrition, overall health, and whether or not you smoke. The new bone forms within a few weeks of the injury, although complete healing can take longer. Typically a fracture can heal within 6-8 weeks.
There are 3 phases of healing time with a fracture:
The inflammatory phase begins when the injury occurs and lasts for a week or two. During the inflammatory phase, cytokines, growth factors, and prostaglandins are released and heal the broken bone.
The repair phase begins the tissue repair, and new living cells of bone, cartilage, and fibrous tissue regrow at the fracture site. A callous form and replaces the blood clot that formed in the inflammatory stage. The callus holds the bone together but is not strong enough for the body part to get put to use. This phase typically lasts between 2 and 6 weeks.
The remodeling phase begins around six weeks after the injury. In this stage, normal bone replaces the hard callus, and the solid healed bone forms. Remodeling takes place while your injury is no longer painful and it appears healed on an x-ray.
A fracture is a common, treatable injury. Most breaks heal quickly, and once cured, regular activities and hobbies can be resumed. Once the bone is healed, physical therapy often plays a vital role in the rehabilitation and helping you to return to an active lifestyle. Bones are living tissues made up of living cells and have blood vessels which help them grow and repair themselves. Lifestyle choices, diet, and nutrition play a significant role in the healing abilities of our bones.
If you suspect a fracture, consult the specialist at South Palm Orthopedics for an evaluation & treatment recommendation call today (561) 496-6622.
Dr. Steve E. Meadows is a board-certified orthopedic surgeon with advanced fellowship training in hand and upper extremity surgery. He practices general orthopedic surgery with a subspecialty interest in shoulder, elbow, wrist, and hand problems. Dr. Meadows performs numerous upper extremity surgeries per year, including rotator cuff repair, shoulder replacement, reverse shoulder replacement, fracture repair, carpal tunnel release, and trigger finger release. Our team of physicians provides an advanced level of care, integrating the newest cutting-edge surgical and non-surgical techniques with proven traditional methods of treatment. The physicians at South Palm Orthopedics are committed to providing the highest level of orthopedic care to each and every patient each and every time.