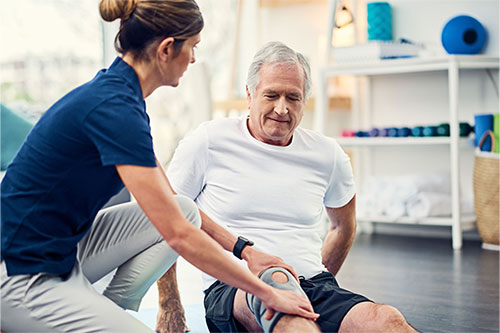 The various treatment options for orthopedic problems can seem overwhelming. How do you know when to give physical therapy a try before going to a surgeon? To some extent this depends on the type and severity of the injury as well as your symptoms.
Seeing an orthopedic surgeon is often the best option for acute and severe injuries such as fractures or severe pain that is limiting your activities. However for chronic and progressive orthopedic conditions, physical therapy may be able to stop or reverse degenerative processes and even help you avoid surgery.
Physical therapy treats a large variety of conditions such as muscle strains, joint pains, injuries related to accidents, work injuries, athletic injuries, overuse injuries, and contact injuries. When doing your routine activities or things you enjoy such as sports or yard work, you might strain yourself. In a couple of days, the soreness or pain and swelling should resolve with a little bit of rest. However, if your pain or discomfort continues even past 3-4 days or your symptoms seem to be getting worse, that's when you should consider getting evaluated by a medical professional and physical therapy is a great place to start your care. Physical therapy not only addresses your injury, but also improves strength and function to help you get back to your routine activities.
Resting for longer than 3-4 days after an injury can cause muscle deconditioning and worsen your symptoms. The longer you are not moving your body, the weaker you get, and the longer it will take to get back to your pre-injury activity level.
So if you have sustained an injury and you are not sure what the problem is, a physical therapist may be able to assess the injury quickly and start treatment promptly so you are on the road to recovery with minimal downtime. If it is determined that the problem may require more invasive treatment, you can be referred to the appropriate specialist.
Dr. Russell D. Weisz is a board-certified orthopedic surgeon with a one-year fellowship in orthopedic traumatology. Dr. Weisz completed his orthopedic surgery residency at the New York University-Hospital for Joint Diseases, publishing papers and giving national presentations on fracture treatment and joint replacement surgery. Dr. Weisz has performed a tremendous amount of minimally invasive hip fracture surgeries and is committed to staying in the forefront of treating complex fractures and fractures that don't heal. Our team of physicians provides an advanced level of care, integrating the newest cutting-edge surgical and nonsurgical techniques, with proven traditional methods of treatments. The physicians at South Palm Orthopedics are committed to providing the highest level of orthopedic care to each and every patient each and every time.