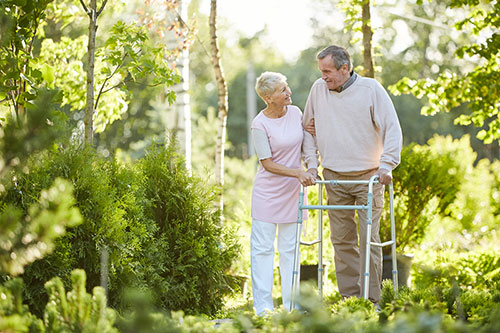 Everyone's experience with hip replacement surgery is going to be different. Your surgeon and rehab team will work with you to develop a customized plan to ensure your safety, comfort, and a successful treatment outcome. Here's are some general guidelines on how to set yourself up for success after hip replacement surgery:
You will need to have a few appointments to ensure you are in good physical condition to undergo the surgery and you also need to inform your doctor of any allergies or medications that you are currently on.
You must stay as active as possible before surgery and do any prehab exercises as recommended by your surgeon to keep the muscles surrounding the hip joint strong. This will provide better support and stability for your hip.
You need to prepare your home for surgery. Remove any tripping hazards like loose rugs or clutter, make sure you have a comfortable chair with armrest in your room, put any items that you use frequently in easy to reach places, consider installing grab bars and a shower chair in the bathroom and handrails for the stairs.
You'll also need to have a friend or family member drive you back home from the hospital after the surgery.
Follow the postsurgical instructions given to you by your regarding physical therapy, activity restrictions, and keep all follow-up appointments. This will help your surgeon monitor your progress and make changes to your postsurgical treatment to ensure a positive surgical outcome.
Dr. David N. Buchalter is a board-certified orthopedic surgeon who trained at the Hospital for Joint Diseases in New York City, one of the largest and most prestigious orthopedic training hospitals in the United States. Dr. Buchalter has performed well over 3,000 total hip and total knee replacements and is a member of the American Association of Hip and Knee Surgeons.Our team of physicians provides an advanced level of care, integrating the newest cutting-edge surgical and nonsurgical techniques, with proven traditional methods of treatments. The physicians at South Palm Orthopedics are committed to providing the highest level of orthopedic care to each and every patient each and every time.