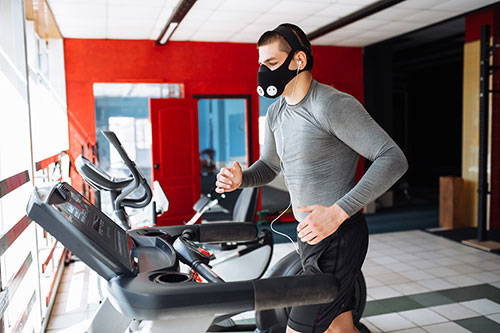 Do you find you get more out of your workouts at the gym as compared to at home? It may have to do with the extra motivation that comes with exercising in the presence of others. But social distancing remains important in the era of the coronavirus. Here's how to work out safely during the pandemic now that gyms are open.
Wipe down the equipment. The free weights, cables, and other machines are virtually a hotbed for germs and infectious organisms. Carry your own sanitizing wipe or spray to clean the equipment before and after use.
Maintain safe distance. Try to stay 6 feet away from other members at the gym. Many gyms are spacing out their exercise machines such as treadmills or elliptical trainers to facilitate social distancing.
Avoid the locker room and shower. The small enclosed places of a locker room or communal showers at the gym increase the risk of contact with contaminated surfaces.
Stay away from group fitness activities. According to research studies, group fitness classes are the riskiest places for getting infected with viral particles due to the heavy breathing, sweating, and close proximity with other participants.
Keep your workouts short. Limiting your gym time will help you stay focussed on increasing the intensity of your workouts and minimize interactions with others. This will help reduce risk of infection.
Those with pre-existing health conditions are at a higher risk for developing symptoms from the coronavirus and it may be a good idea to get a medical evaluation before returning to the gym.
Dr. William P. Toole is a board-certified, fellowship trained orthopedic surgeon with a prestigious fellowship in sports medicine at Baylor College of Medicine in Houston, Texas. Dr. Toole specializes in the most cutting-edge and minimally invasive techniques and technology for shoulder and knee replacements, including patient-specific implants and robotic-assisted joint replacements. Dr. Toole is a member of the American Academy of Orthopaedic Surgeons (AAOS), American Orthopaedic Society for Sports Medicine (AOSM), and Arthroscopy Association of North America (AANA). Our team of physicians provides an advanced level of care, integrating the newest cutting-edge surgical and nonsurgical techniques, with proven traditional methods of treatments.The physicians at South Palm Orthopedics are committed to providing the highest level of orthopedic care to each and every patient each and every time.