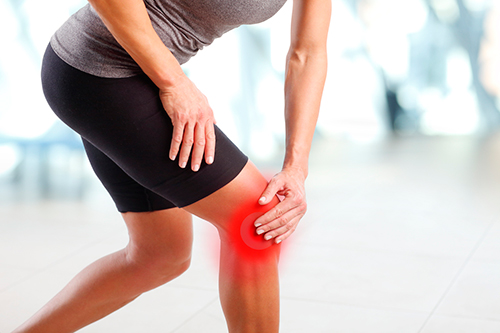 The knee joint is the largest joint in the body. A serious injury to the knee can cause significant disability because proper function of the knee joint is critical to walking and most activities of daily living. Here are some innovative treatment options for knee injuries:
PRP Therapy: It is a type of regenerative medicine treatment that uses the natural healing potential of platelets to stimulate healing of an injury. A simple blood draw is taken from your arm. The blood is placed in a centrifuge machine that spins around very rapidly for 12-15 minutes to obtain platelet-rich plasma. This is injected into the knee where it releases growth factors that cause the injured tissue to regenerate and repair the injury.
Stem Cell Therapy: This is also a regenerative medicine treatment that utilizes stem cells, which can develop into different cell types such as ligament, tendon, muscle, or bone cells. These cells can be aspirated from your pelvis and injected into the injured knee to cause healing of tissues.
Knee Arthroscopy: This a minimally invasive procedure where tiny puncture hole incisions are made on the skin surface and a special tube-like instrument fitted with a miniature camera is passed through the incision into the knee to diagnose and treat the problem, which could be repair or ligaments or tendon, removal of debris from the joint, or reshaping of bone to enable smooth knee function. There is very little trauma to the surrounding healthy tissue during this procedure and patients can return to routine activities faster than if they had to undergo open knee surgery.
Book an appointment at South Palm Orthopedics for an accurate diagnosis of your knee condition and a customized treatment recommendation.
Dr. William P. Toole is a board-certified, fellowship trained orthopedic surgeon with a prestigious fellowship in sports medicine at Baylor College of Medicine in Houston, Texas. Dr. Toole specializes in the most cutting-edge and minimally invasive techniques and technology for shoulder and knee replacements, including patient-specific implants and robotic-assisted joint replacements. Dr. Toole is a member of the American Academy of Orthopaedic Surgeons (AAOS), American Orthopaedic Society for Sports Medicine (AOSM), and Arthroscopy Association of North America (AANA). Our team of physicians provides an advanced level of care, integrating the newest cutting-edge surgical and nonsurgical techniques, with proven traditional methods of treatments.The physicians at South Palm Orthopedics are committed to providing the highest level of orthopedic care to each and every patient each and every time.