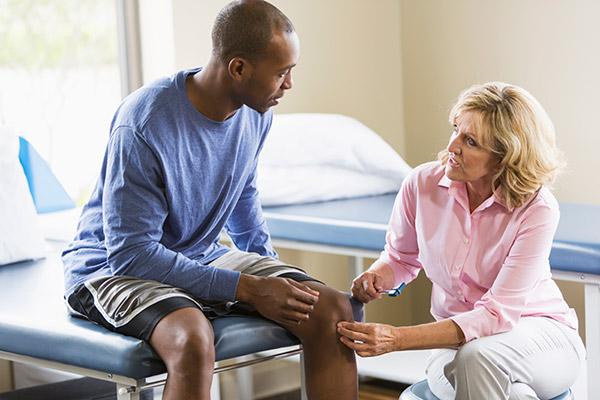 Joint replacement is performed at South Palm Orthopedics using advanced minimally invasive surgical techniques and instrumentation to minimize damage to healthy tissue and speed up your recovery. After the surgery, you may be encouraged to get on your feet as soon as possible and participate in physical therapy because it plays a big role in ensuring your new joint stays in good condition.
The important benefits of physical therapy include:
Builds up strength in the muscles that surround and support your new joint
Improves blood circulation
Reduces pain and swelling
Restores normal movement
Speeds up your return to routine activities.
Depending on your condition, you may either be referred to a physical therapist or you may be given exercises that you can do by yourself at home.
Initially, the emphasis will be on isometric exercises such as contraction of the quadriceps, glutes, hamstrings, calves, and other muscles around the joint as well as passive and assisted range of motion exercises to improve joint flexibility.
Walking is a great exercise to help you recover after knee or hip replacement. You may have to use a walker or crutches until you are confident enough to walk without assistance. Initially, try to walk for 5 minutes at a time 3-4 times a day and gradually increase your walking time to 20-30 minutes 2-3 times a day.
As your endurance improves, you can start to add more resistance training exercises to further strengthen your muscles which will take some of the stress off your joint and allow you perform routine activities with greater ease.
Your surgeon or physical therapist will guide you as to the activities that may be performed safely without damaging your new joint. Stay as active as possible while sticking to these guidelines to ensure you have a long lasting well-functioning knee or hip joint.
South Palm Orthopedics is a medical practice devoted to the diagnosis and treatment of injuries and diseases of the body's musculoskeletal system. Our orthopedic surgeons have advanced fellowship training in the areas of hand & wrist, shoulder, elbow, hip, knee, trauma and fractures, foot and ankle, and sports medicine. The physicians of South Palm Orthopedics are committed to providing the highest level of orthopedic care to each and every patient each and every time.