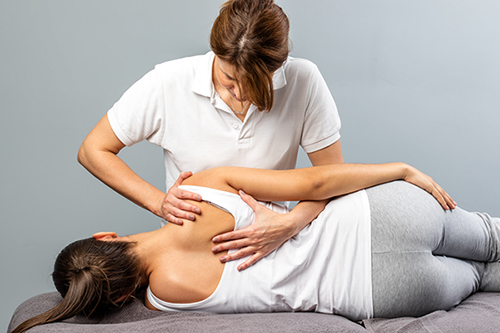 When seeking care for persistent joint pains and aches as well as similar problems, patients are sometimes referred to a chiropractor by their doctor with great results. So, wouldn't it be easier to just skip making the doctor's appointment and go directly to your chiropractor? Not always. Let's look at when you should visit your doctor before going to a chiropractor.
There are more than 70,000 chiropractors in the US, and they help relieve stress placed on the overburdened healthcare system. All 50 states in the US recognize licensed chiropractors as primary care providers for most musculoskeletal problems such as back pain, neck pain, shoulder pain, etc.
BENEFITS:
By going to the chiropractor directly you make fewer appointments cutting down your waiting time, obtain natural conservative (nonsurgical) care, and chiropractors generally follow a holistic approach to treatment. Nutritional support and corrective exercises to treat musculoskeletal problems are also within the scope of chiropractic care.
RISKS:
However, there are certain risks involved with chiropractic care. When performing chiropractic manipulations, the chiropractor sometimes applies a sudden, controlled force on specific points of your musculoskeletal system. This can aggravate a condition such as a herniated or slipped disc making your condition worse.
There is also a very rare possibility of a blood vessel or nerve in the neck getting damaged as the chiropractor performs manipulations of the cervical spine area that could result in a stroke.
For those with chronic degenerative conditions such as severe arthritis, osteoporosis, bone infections, cancer, spinal fractures & dislocations, diabetes, or if you are on blood thinning medications or are pregnant, it is recommended to see your doctor first before going to a chiropractor.
Dr. Russell D. Weisz is a board-certified orthopedic surgeon with a one-year fellowship in orthopedic traumatology. Dr. Weisz completed his orthopedic surgery residency at the New York University-Hospital for Joint Diseases, publishing papers and giving national presentations on fracture treatment and joint replacement surgery. Dr. Weisz has performed a tremendous amount of minimally invasive hip fracture surgeries and is committed to staying in the forefront of treating complex fractures and fractures that don't heal. Our team of physicians provides an advanced level of care, integrating the newest cutting-edge surgical and nonsurgical techniques, with proven traditional methods of treatments. The physicians at South Palm Orthopedics are committed to providing the highest level of orthopedic care to each and every patient each and every time.