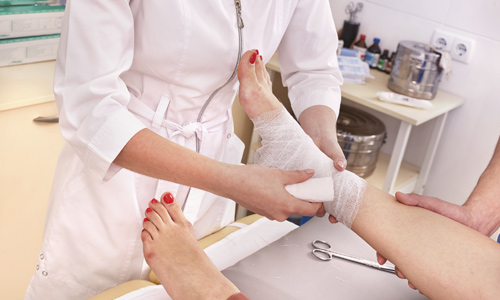 The human foot is quite remarkable, comprising 26 bones and over 100 tendons, muscles, and ligaments. The ankle was originally thought to be a hinge joint. We now know it moves in multiple directions during one's gait and takes on 2-1/2 times one's body weight at the moment that the foot completely strikes the ground.
We walk an average of 8,000 to 10,000 steps per day, so our feet and ankles endure quite a bit of wear and tear over time. In fact, 75 percent of Americans will experience foot and ankle problems at some point in their lives.
There are two types of doctors who can treat the feet and ankles: (1) an Orthopedic Foot and Ankle Surgeon, and (2) a Podiatrist. When it comes to choosing a health care provider to treat your feet and ankles, it is essential to understand the differences between the two.
Orthopedic Foot and Ankle Surgeons vs. Podiatrists
When looking for a physician, one of the first things to evaluate is the doctor's background – including education, training, experience, and certifications. Let's take a look at these two types of medical specialists.
Orthopedic Foot and Ankle Surgeon
Orthopedic foot and ankle surgeons have MD (medicinae doctor, or medical doctor) degrees. After graduating from college, they must complete four years of medical school, followed by several years of focused experience in a residency and a fellowship. This includes no less than five years' worth of orthopedic surgery postgraduate training and advanced (fellowship) training in ankle and foot surgery.
In addition, orthopedic foot and ankle surgeons are examined and cleared by the American Board of Orthopaedic Surgery. These surgeons treat issues in the joints and bones as well as other musculoskeletal system conditions, including those affecting the muscles, tendons, and ligaments.
Because they are MDs, orthopedic surgeons can take a full-body approach to diagnose health conditions.
Podiatrist
Podiatrists do not have MD degrees from medical school. After receiving their undergraduate degree, they go through four years of a specialized program in podiatric medicine. Some podiatrists follow up with a year-long internship, while others have optional podiatric surgical residency training.
Podiatrists typically treat common foot ailments, such as simple foot injuries, ingrown toenails, heel spurs, calluses, and fallen arches. They are adept at fitting orthotics, braces, and custom shoes.
Most podiatrists are not trained to manage complex issues of the foot, ankle, and lower leg. In fact, in certain states, they are not allowed to treat patients for health issues above the ankle.
Why a Foot and Ankle Orthopedic Surgeon May Be Your Best Choice
Being an MD, an orthopedic ankle and foot surgeon is able to treat the entire body, not just the lower extremity below the knee. This means that the doctor can address complicated foot and ankle problems, including how certain medical ailments can impact overall health.
Some foot and ankle problems originate from other areas of the body, such as the hip, knees, or lower back, and the physician will be able to diagnose and treat the issue fully and properly. The surgeon can help determine whether other orthopedic issues are contributing to your foot and ankle ailments by considering the entire musculoskeletal system.
Foot and Ankle Surgeons in Palm Beach County
If you are experiencing any kind of pain or flexibility issues in your feet or ankles, your best bet would be to see a board-certified orthopedic foot and ankle doctor to ensure that you are properly diagnosed and treated. We are conveniently located in Delray Beach.
At South Palm Orthopedics, we have expertise in the latest surgical and non-surgical techniques to treat everything from arthritic conditions and flatfoot deformities to traumatic musculoskeletal injuries. Dr. Brian E. Coleman, our board-certified and fellowship-trained surgeon, specializes in complex foot and ankle problems, with advanced knowledge of treating arthritic conditions of the foot and ankle – including total ankle replacement surgery. He has significant experience in the application of new advances in regenerative medicine – including PRP and stem cell therapy – in the treatment of Achilles' tendonitis and plantar fasciitis.
Dr. Coleman has the distinction of performing the first total ankle replacement procedure in south Palm Beach County (at both Delray Medical Center and Boca Raton Regional Hospital) in 2011. He has been in private practice since 1992, performing more total ankle replacement surgical procedures than anyone in Palm Beach County. In addition, he has consistently ranked as one of the top 4 or 5 surgeons in the state of Florida performing the most hindfoot reconstructive procedures annually.
If you have any questions or would like to make an appointment, contact us today by calling or request an appointment online. We serve all of Palm Beach County, including Delray Beach, Boca Raton, Boynton Beach, Wellington, Lake Worth, and Palm Beach.