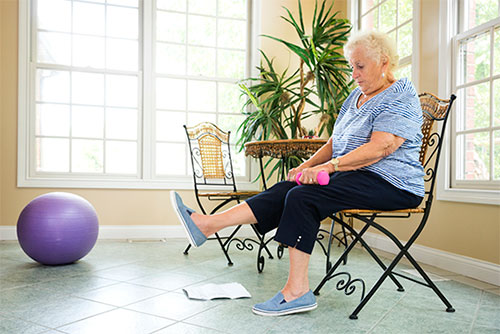 To a large extent, the success of your knee replacement surgery depends on your active participation in the postsurgical recovery; and this starts with your commitment to pre-hab. Let's look at the importance of pre-habilitation prior to knee replacement surgery.
Pre-habilitation is a therapy and exercise program that may be recommended by your surgeon to strengthen the muscles around your knee joint. It should begin about 6 weeks prior to surgery or even longer to be effective. If done correctly, pre-hab will help manage pain prior to the surgery and will allow you get back on your feet faster post-surgery. Results of several research studies show that knee replacement surgery patients may be able to reduce their need to inpatient physical therapy rehabilitation by up to 73% with prehabilitation.
The importance of prehabilitation becomes clearly apparent with outpatient knee replacement surgery. You generally are expected to be able to get on your feet a few hours after outpatient surgery and also be able to get in and out of a car to be discharged home. At home, you must be able to do some of the routine activities of daily living with the aid of assistive devices. The improved knee strength gained from prehabilitation exercises will allow you to perform these activities with minimal discomfort.
The prehabilitation therapy program would be tailored to specifically match your condition. This will prevent damage to the knee joint while maximizing muscle strength and joint function.
At the present time with the COVID-19 crisis, the pre-habilitation exercises and therapy may be explained and demonstrated using telemedicine services. To make an appointment or for more information, you can contact our office during our scheduled office hours at (561) 496-6622.
Dr. William P. Toole is a board-certified, fellowship trained orthopedic surgeon with a prestigious fellowship in sports medicine at Baylor College of Medicine in Houston, Texas. Dr. Toole specializes in the most cutting-edge and minimally invasive techniques and technology for shoulder and knee replacements, including patient-specific implants and robotic-assisted joint replacements. Dr. Toole is a member of the American Academy of Orthopaedic Surgeons (AAOS), American Orthopaedic Society for Sports Medicine (AOSM), and Arthroscopy Association of North America (AANA). Our team of physicians provides an advanced level of care, integrating the newest cutting-edge surgical and nonsurgical techniques, with proven traditional methods of treatments.The physicians at South Palm Orthopedics are committed to providing the highest level of orthopedic care to each and every patient each and every time.