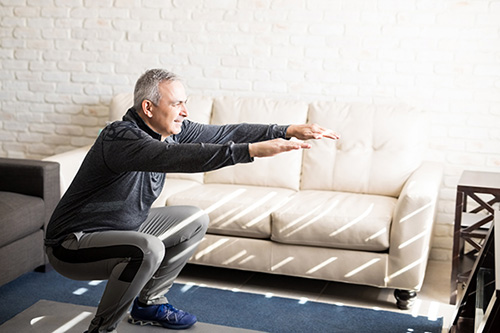 Chronic hip pain can be a debilitating condition, especially when every step you take provokes the pain. If you don't identify the source of your hip pain and correctly treat the condition, all your physical activities could literally come grinding to a halt. Let's consider the most common culprit of hip pain and what you can do about it.
Osteoarthritis is the most common cause of hip pain in the elderly. It is characterized by the wear and tear of the cartilage covering the bone surfaces. Because the hip joint is a highly mobile joint, one of the first things you might notice before experiencing pain is limitation in range of motion. This might make it difficult to get in and out of a car, stand up from a chair, or go up and down stairs. There may have been a predisposing injury in the past that could have caused the condition.
While there is no cure for osteoarthritis, early diagnosis and management of the condition can significantly improve quality of life.
The first line of treatment is exercise and physical therapy. If the pain does not improve, over-the-counter pain medications may be tried. Of note, medications should only be taken as recommended by your doctor to avoid possible side effects.
The next line of treatment would be hip injections that include ultrasound-guided cortisone injections and the newer orthobiologics to stimulate healing of injured tissues. The final treatment of end-stage hip arthritis is joint replacement, which in most cases can be done as a minimally invasive procedure.
In younger and highly active patients, hip tendonitis is a common problem and is usually a consequence for overuse while playing sports or when doing repetitive manual labor jobs. The condition may be resolved with rest, application of ice, and other non-surgical treatments as mentioned above. If a significant tendon tear is identified, the surgical repair of the tendon might be necessary.
Dr. David N. Buchalter is a board-certified orthopedic surgeon who trained at the Hospital for Joint Diseases in New York City, one of the largest and most prestigious orthopedic training hospitals in the United States. Dr. Buchalter has performed well over 3,000 total hip and total knee replacements and is a member of the American Association of Hip and Knee Surgeons.Our team of physicians provides an advanced level of care, integrating the newest cutting-edge surgical and nonsurgical techniques, with proven traditional methods of treatments. The physicians at South Palm Orthopedics are committed to providing the highest level of orthopedic care to each and every patient each and every time.