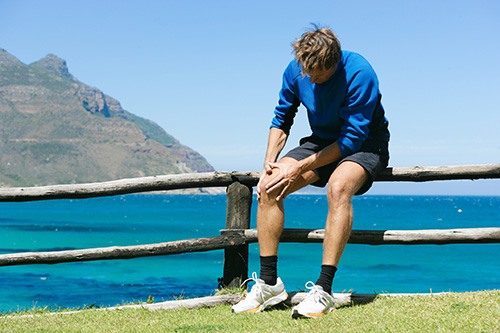 Arthritis is a broad term referring to a group of debilitating bone and joint conditions that can dramatically impact quality of life. It affects more than 54 million Americans or approximately 1 in 4 adults. May is observed as Arthritis Awareness Month to raise awareness and help people successfully manage their joint pain and stiffness.
Here are a few tips for managing arthritis pain:
Physical Activity: Regular exercise helps keep your joints flexible. Try to perform lowimpact exercises such as walking, swimming, or water aerobics to avoid exacerbating painful joint symptoms.
Reduce Bodyweight: Carrying extra weight puts more pressure on your joints. According to some research studies, for every pound of weight lost, there is 4 pounds less of pressure acting on your knee joint with every step you take.
Heat and Cold Therapy: Heating pads or hot baths can help reduce stiffness in your joints. Cold therapy may be used to reduce joint swelling and pain in case of acute arthritic flareups.
Pain Medications: The different types of pain medications that may be used include analgesics, nonsteroidal anti-inflammatory drugs (NSAIDs), disease-modifying antirheumatic drugs (DMARDs), and corticosteroids. To avoid side-effects, ensure you take them only as recommended by your doctor.
Assistive Devices: Use of certain devices such as braces or a walking cane can help protect your knee or hip. Smaller joints of the hand can be protected by using "jar openers" or similar devices.
Massage Therapy: Regular massages by a certified therapist or self-massage can help reduce arthritic joint pain and improvement in function.
Rest: Dealing with chronic arthritis symptoms can cause muscle weakness and tiredness. Taking a short nap or rest during the day may help alleviate symptoms, restore energy, and improve quality of life.
Self-management is an important aspect of successfully dealing with arthritis. Patients who actively participate in their own care typically experience less symptoms and report positive outcomes with treatment.
South Palm Orthopedics is a medical practice devoted to the diagnosis and treatment of injuries and diseases of the body's musculoskeletal system. Our orthopedic surgeons have advanced fellowship training in the areas of hand & wrist, shoulder, elbow, hip, knee, trauma and fractures, foot and ankle, and sports medicine. The physicians of South Palm Orthopedics are committed to providing the highest level of orthopedic care to each and every patient each and every time.