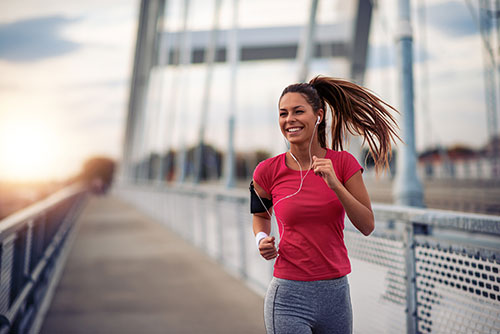 Getting a workout in after hours of sitting in front of a computer without a proper warm up increases risk of injury. Whether it's running, tennis, biking, or golf; here are some simple warm-up exercises to get your body primed and ready for action to follow.
Arm circles: Stand straight with your chest out, shoulders back, and feet shoulder width apart. Extend both arms out to the side so they are parallel to the floor. Make a few small forward circles with your arms, then medium circles and finally large circles. Now reverse the direction to make small, medium, and large backward circles. This exercise helps warm up the muscles in the shoulders and arms; and will also improve a hunched posture.
Walking lunges: From a standing position take one giant step to place 1 foot about to 2-3 feet in front of the other. Bend your knees such that your front thigh is nearly parallel to the floor. Now straighten your knees and take another giant step forward with the other leg. Repeat the movement until you have made 10 to 15 steps with each leg. This is a great exercise to warm up all the major muscles in your lower extremities.
Pushups: Lie face down on the floor and place the palms of both hands flat on the floor on either side of your chest. Push your body up off the floor by straightening your arms. Then slowly lower your body down again. This is the great exercise to warm up your chest and core muscles. Do your pushups with your hands resting against a chair or table if you can't do them on the floor.
These simple exercises require no special equipment and can be performed anytime anywhere to warm up the muscles in your body.
Dr. William P. Toole is a board-certified, fellowship trained orthopedic surgeon with a prestigious fellowship in sports medicine at Baylor College of Medicine in Houston, Texas. Dr. Toole specializes in the most cutting-edge and minimally invasive techniques and technology for shoulder and knee replacements, including patient-specific implants and robotic-assisted joint replacements. Dr. Toole is a member of the American Academy of Orthopaedic Surgeons (AAOS), American Orthopaedic Society for Sports Medicine (AOSM), and Arthroscopy Association of North America (AANA). Our team of physicians provides an advanced level of care, integrating the newest cutting-edge surgical and nonsurgical techniques, with proven traditional methods of treatments. The physicians at South Palm Orthopedics are committed to providing the highest level of orthopedic care to each and every patient each and every time.